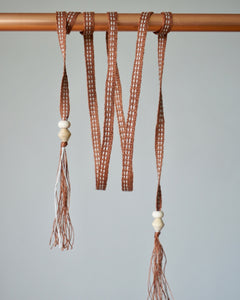 Hand woven in the New Forest, this beautiful cotton belt in brick & ecru with wooden beaded ends can be added to your favourite dress or denim to add texture and colour. 
Details:
Machine wash at 30 degrees.
100% cotton.
Made in England.
W 1cm x L 160cm.
"I love most to immerse myself in the rhythm of weaving. It's a whole body experience from the feet on the treadles to passing the shuttle from hand to hand."
Clare - Weavehouse